Luxury Porta Potty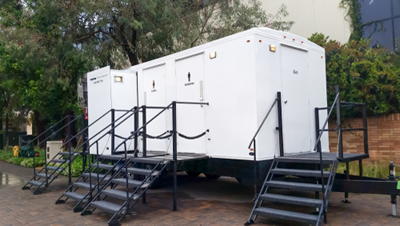 We have all been to an event where everyone was dressed to kill, the food was amazing, and the event organizer outdid themselves. Don't let that be your event! Luxury portable potties are designed to match high-end events by offering the same class and luxury. Your guests will be provided with washrooms that feel like home. Read on to find out more about a luxury portable potty.
A luxury portable potty is a high-end, comfortable porta potty that can be compared to washrooms in a nice hotel or even your home. These units offer luxury you would not expect from an event portable potty. It also comes with additional features that cannot be found in regular or even deluxe porta potties. These units have running water, electricity, and air conditioning systems to remove all odors.
These units also come with mirrors and even vanities. Depending on the portable potties you choose, they come with high-quality toilet seats, marble floors, and eye-catching finishes. These units are also designed with bright lighting 24/7 and may even be fitted with chandeliers. Most also come with His and Hers washrooms, wheel-chair accessible bathrooms, and urinals.
What to consider
Size
These units are designed to be more spacious for comfort. The interiors are bigger and spacious for the mobility of all guests. The washrooms also state of the art with ample space within the room. These units are bigger than deluxe porta potties and come with bigger capacity tanks.
Features
Luxury portable potties come with additional features compared to other units. They are designed to offer more comfort, so they come with features for comfort. These units come with mirrors and vanities where guests can get comfortable. They also come with storage cabinets or shelves and coat hangers so one can use the washroom comfortably. These units are designed with supplies to replace finished tissues and refill the hand sanitizers and hand soap. We ensure that all our units are serviced twice a day to cater to these necessities.
Event
These units are designed for high-end events with esteemed guests. A luxury porta potty is more suited for an outdoor wedding than a concert or food festival. These units are costly to hire, so they should be hired for high-end events to maintain the event's class. A luxury unit is more suited for use by a few people since it can be very expensive to hire many units.
About New York
New York City is the capital of the united states. It's the most populous city and is home to millions of people. New York is also home to different colleges and universities, as well as different activities such as music and entertainment. It is a city buzzing with activity. Planning an event and don't know where to start with portable potty washrooms? We provide luxury porta potties for weddings, family gatherings and reunions, corporate events, and other high-end events. Contact us for further assistance.